Are you registered for camp? You must be registered for camp before you apply to be an LIT. Talk to your parents and get registered!
Be a Returning LIT
Camp Foley Returning LITs are going into 10th, 11th or 12th grade AND have already completed two weeks of the Leadership Program. Participants must be highly motivated, ready to work (and play) hard. We're looking for campers who are willing to take on the additional responsibility and challenges of leadership in the Foley community.
You can be a Returning LIT AND an Activity Apprentice. Become an amazing leader AND instructor so you are ready to be a counselor some day!
What You'll Do
LIT Classes: One activity period during two of the 3-day sign ups will be dedicated to LIT Class. This class will help you continue to develop your leadership skills and give you time to plan any programming you're responsible for while at camp. LIT classes will be taught by a Foley counselor who will act as your Leadership Mentor while you're at camp.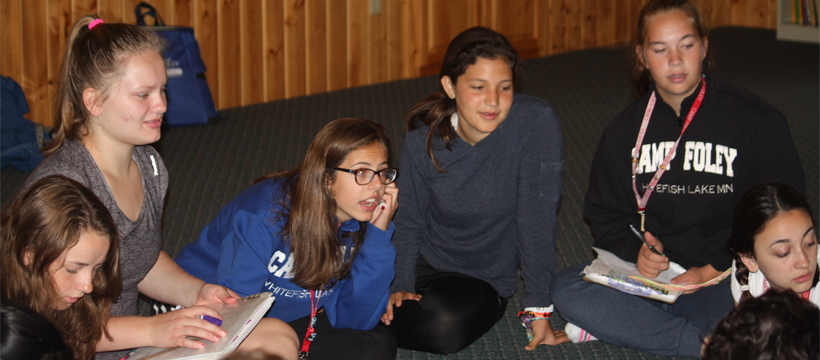 Special Programming: Each group of LITs are responsible for planning, presenting and executing a Special Event for the camp community. It may be for the entire camp, specific age groups or a single cabin.

Daily Responsibilities: LITs are expected to step up and lead within the camp community this includes (but is not limited to) leading grace, presenting the day's morning virtue, collecting cups in the Dining Hall, pouring milk at outdoor meals, assisting at Canteen, helping collect and distribute lost and found, helping pass out mail or activity signups or assisting a counselor briefly at an activity. Third year LIT responsibilities may differ slightly as they are more focused on leading campers outside of their age group.
One Last Thing
We require that participants are willing to act responsibly and respectfully as a part of our Leadership Program. Participants must be willing to learn and get along with others.
An LIT is committed to doing their best to live as a role model in our camp community.
Participants who fell short of following the Camp Foley Code of Living or adhering to camp policies in the past may not be eligible for the LIT program.
Participants who fall short of following the Camp Foley Code of Living or adhering to camp policies while in the Leadership Program may be removed from the program and become ineligible to participate in the future.

Completion of the Returning LIT program does not necessarily mean that a camper is guaranteed an invitation or acceptation into the CIT or Octo Internship or is guaranteed future employment as a counselor.

Due to all of the unique opportunities of the LIT program, participants will only be able to commit to doing dishes six times in a two-week session.
Apply!
The Returning LIT is for campers going in to 10th or 11th grade next fall AND who have completed two weeks of the Leadership Program.
Fill out the Online Returning LIT Application. -

This email address is being protected from spambots. You need JavaScript enabled to view it.

if you have any questions.
Someone from Foley will contact you via Facebook or email to let you know we've received your application and ask any follow up questions.
A "Keys to Success" Form will be emailed to you. You and your parents will need to sign it and send it back.
Get ready to have fun and be a leader in the Foley community!